We love our new RS Fevers! Simple, smart designs, great performance, low maintainence and LOTS of fun!
Thanks, NZ Sailcraft!
Our new RS Fevas and Quests have really transformed our club. They are awesome boats – great performance and very robust! The Quests have been really good for our Learn to Sail programme as we can pair up an instructor with 2 or 3 beginners. We've also had some epic races in them with 3-people per boat. Nothing beats planing down the harbour, surfing the waves with the genni flying in a fresh SW'er! Hayden is great to deal with – very responsive, obliging and super friendly. Thanks NZ Sailcraft!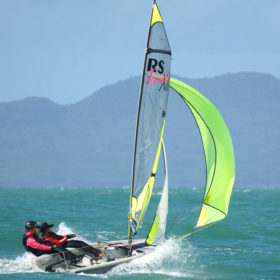 For us the RS Feva has been an excellent stepping stone from the Open BIC into two handed sailing. The similarity of the control systems is making it the idle pathway to the 29er, while being as simple or as complex as you require. It is providing a platform that can be used for training, fun and competitive racing. NZ Sailcraft is and has been a supportive partner with knowledge and encouragement to our sailors.
Denis Garner
Bay of Islands